Credit Defaut Swap (CDS), mortgage backed security (MDS), bottom-up investment, high frequency trading, naked short sale... these are the kind of complicated terminology you encounter when you start exploring the financial jungle.

But don't be mislead. This overuse of jargon is designed to confuse and destroy any motivation to explore further. Clearly 'they' don't want you to understand because they are hiding some rather dirty secrets wrapped up in apparently complicated jargon.

Scratch beyond this seemingly complex veneer however, and the reality of finance is surprisingly simple... and disgusting. The objective of this article is to explain, in layman terms, finance principles and the slavery most individuals and states are subjected to. I will also show why things might soon change dramatically and offer some sound advice for such times of financial turmoil.

Finance, a brief overview
Who are the actors?



In world finance duality prevails. You are either a master or a slave. The masters are a small clique of excessively wealthy individuals devoid of conscience. They have various names: international cabal, banksters, elites, ultra-wealthy, 0.1%, oligarchs, global banking elite, etc.

Their only goals are money, power and control. They will never have enough and they are ready to do anything to get more. Their geographic and ideological core is the anglo-American empire but they know no borders, have no country, no notion of nationalism or patriotism. For them nations are like hotels, there to be used, abused and when no longer useful, destroyed. They feel a deep contempt for people who they see as little more than slaves to be exploited, abused and deceived.

What is money?



Now that we know a bit more about the cast of this drama, let's deal with money. Have a look at a 20 dollar bank note. What do you see? Well, it's basically a piece of paper with images and text printed on it. Despite all the BS about currency as the reflection of the nation's economy, the backing of reserve assets, this bank note you are looking at is nothing more than that: a piece of paper with ink on it.

Who creates money?



Money creation can be a good thing. In the past, nations could directly create money as a fair reflection of their economical states, interest free, in order to stimulate their development. But the time of sagacity in economics is long gone. Today, nations borrow insane amounts of money, with a positive interest rate. This money is created by a few private banks, also known as central banks and does not even reach the citizens pockets. Yes you read it right, this bank note you are holding was created by a member of the financial 'elite' out of thin air. But the sweat, the energy, the work you spent to earn it is very real.

The fallacy used to justify the printing of money by private banks is that governments are unwise and if they were allowed to print money, they would create far too much and destabilize the market. That is a lie, the record for the most money ever created at one time occurred in the aftermath of 2008 crisis (see "quantitative easing", another jargon term that simply means "print like crazy") and it was private bankers, not governments, that created it.


How much money is created?
The short answer is: "We don't exactly know but it sure is a lot". The quantity of money is called "monetary mass". Depending on the kind of money (coin, note, travelers check, credit card, saving, etc.), monetary mass is divided in sub-groups labeled M1, M2, M3, etc.

The problem is that the US Federal Reserve, (which is not American, federal or a reserve, but a private bank serving exclusively the interest of its owners) stopped publishing the figures relative to the total amount of money it creates. Only partial figures (M1 and M2) are disclosed and they show a dramatic unsustainable increase. But M3, the most extensive indicator, has not been released since 2006. Why not publishing M3 if its level was reasonable?


What is debt?
Who sets interest rates?
The ones who create money are also the ones who set the interest rates. To preserve the illusion of fairness and separation of powers, they have created puppet organizations called "credit rating agencies" (Fitch, Standard & Poor, etc.) that "evaluate" the reliability of the borrower. If the reliability is low, the interest rate is high. Or so we are told.

Credit rating agencies have been repeatedly found guilty of fraud. They unilaterally set interest rates in order to control the fate of a company or a nation.

Take the example of Greece. Overnight the credit rating agencies dramatically raised its interest rates. But Greece couldn't stop borrowing because it had to repay previous loans. Suddenly the weight of the debt became unbearable pushing Greece to the edge of bankruptcy.

At this point Greece had no more negotiating power and had to accept the looting of the country by the elite, who took control of public services, natural resources, etc. This kind of egregious banditry is euphemistically called an "IMF package".


Privatize the gains, socialize the losses



In the Greek example, profitable activities were privatized (that is transferred from the public sphere to a few private oligarchs) for a ridiculously low price, or for free. But if a private activity is not profitable, the reverse occurs: the losses are socialized i.e. laid at the door of the people who have to pay for them with their tax money.

That's what happened, for example, with Fannie Mae and Freddie Mac, two private insurance companies who generated massive losses and were "bailed out" by the US treasury. In this case hundreds of billions of taxpayer's money was used to cancel the losses generated by those private corporations.


Inflation
Capital VS labor
In a nutshell, money works for the rich (capital gain) while, on the contrary, the poor work for money (wage). Over the past year, wages as a part of GDP have been shrinking while capital gain has been increasing.

The diagram on the right shows those changes and illustrates the massive transfer of wealth from the people to the wealthy elites. This means that corporations, the conjunction of capital and work, favor more and more their rich shareholders while financially squeezing their workers.

Tax is money collected by the state from individuals and corporations in order to fund public services (hospitals, schools, roads...) which is one of the few mechanisms that allows for the redistribution of money from the richest to the poorest.

Notice however that a substantial share of taxes doesn't fund public service but interest payments which dwarf government spending like education or food stamps. This, despite the historically low interest rates. So, imagine what would happen if interest rates surged...


Cashless society



For years the establishment has been pushing a cashless society. Of course this is an obvious step towards more totalitarianism where every single transaction is monitored. In a cashless society, a government can decide to quash dissidents by instantly cutting them off from the economy. Submit or starve will be the only two solutions.

But this is also a way to ensure that the people won't escape the unjust tax system. The rich already have bank accounts in tax havens, legions of lawyers and accountants (fiscal optimization), off shore companies and tax exemptions at home so they don't need cash to escape taxes. On the other hand, the people try to avoid the suffocating tax load by using cash.


Dollar overabundance
While tons of dollars are created daily, one might wonder how this overabundant currency doesn't lose its value because, usually, when supply exceeds demand for any kind of goods, the prices drop. Actually, over the past few decades, the dollar has been steadily dropping relative to other currencies (see illustration on the right).

However this drop is limited because of a forced demand for the dollar. In 1944, the infamous Bretton Woods conference instituted the dollar as the world reserve currency, the only one tied to gold while all other currencies were tied to the dollar. As a consequence, the dollar became the currency used for international trade.

For example, when China sells its manufactured product to a foreign country, it is paid in dollars. Since China exports a lot, it has billions of dollars in reserve. Through this forced purchase of dollars, China helps limit the drop in value of the dollar. In this sense, China and the whole world, through the erosion of their dollar reserves, fund the wealth of the elites who pocket the tons of newly created dollars.

The forced use of dollars on the international scene doesn't only apply to Chinese goods. Oil, the largest commodity market, is dealt in dollars exclusively. If you want to buy a barrel of oil you'll have to exchange your currency for dollars (known as petrodollars) and give them to the oil supplier. During such a transaction you weaken your currency (by selling it) and you strengthen the dollar by increasing its demand.


A bleak situation



From the above one can only conclude that the situation looks pretty desperate. For decades we have been condemned to live with the hegemony of the dollar, fund the lavish lifestyle of the dollar creators through the erosion of our dollar reserves. We have been enslaved by debt and seen our countries looted and destroyed by soulless banksters. While our resources keep shrinking, the elite keep getting richer.

It seems like an insoluble problem: they have an almost endless supply of money, they control the banks and through them manipulate the markets. They own the media, they pull the strings of politicians and therefore make the laws.


A house of card

s



The power accumulated by banksters so far could, in theory, have provided them with an endless reign. But their greed and wishful thinking pushed them to take more and more undue risks, exposing the whole banking system to some very real threats.


Leverage

Leverage defines the ratio between the money invested by a bank divided by the money owned by a bank.

Common sense suggests that, if a bank owns one dollar, it should be allowed to invest one dollar (leverage = 1). Thus, if the bank loses its investment, it can pay for the loss with the money it owns. This couldn't be further from the reality of banking.

For any deposit of 1 dollar, banks are usually allowed to invest 10 dollars (this is called fractional reserve. Leverage = 10). In plain terms, it means that if a bank loses 10% or more of its investment, it is bankrupt.


Derivatives
The delirious leverage levels of the banking industry leads to tremendous risks but other factors add to the precariousness of this financial house of cards.

During the 2008 subprime mortgage crisis, you probably heard about "derivatives". Once again this is a deceiving term that carries the veneer of "innovative financial product offering high potential profit".

In reality, derivatives increase the already sky-high leverage levels previously described. They also mix together the potential profits and risks of various assets. As a result, unknown toxic assets are hidden in seemingly harmless financial products.

The derivative market is gigantic. In 2011 it amounted to approximately $700 trillion (10 times the GDP of the whole world). As a result, huge quantities of these toxic derivatives spread throughout the global economy: individuals, towns, counties, nations, companies and of course banks, hold massive amounts of derivatives without even knowing what assets, and therefore what risks, they are attached to.

The mixing up of assets has also led to a strong interdependency between every asset. Because the amounts involved far exceed the solvency of nations or banks, if one asset doesn't behave as expected, the whole financial house of cards could collapse.
High Frequency trading
Another risk factor is high frequency trading. Today, a majority (50 to 70% in 2010) of trading is not operated by humans but by machines running algorithms. This is called 'high frequency' because such machines can place an order in 30 milliseconds. Because of this technology, it is not unusual to see thousands, if not millions, of orders passed within less than a second (far too quick for any human regulating intervention).

Nobody knows exactly how those different algorithms interact with one another, but we know that they can generate some nasty domino effects.

Those "glitches" are also called "flash crashes". For example, in March 2011, cocoa dropped by 13% in a few seconds. In May 6, 2010 the Dow Jones lost 1000 points (9%) within a day. That's the largest day loss in history. On March 16, 2011, the US dollar sank 5% against the Japanese yen within minutes.

Notice that those dramatic drops didn't follow any relevant news release. They were the results of algorithmic 'decisions'. To hide the seriousness of the situation, Wall Street authorities "canceled" those abnormalities by freezing the quote and going back to the initial values.

The inquiry about the Dow Jones 2010 "flash crash" portrayed a "market so fragmented and fragile that a single large trade could send stocks into a sudden spiral".


Manipulation of gold price



For centuries, gold was used in international trade and was considered as a safe financial haven. It was de facto the international currency, the safest investment of all. In the minds of many, gold is still a competitor to the dollar. So, in order to hide the weakness of the dollar relative to gold, and prevent a subsequent shift of capital from the dollar to gold, the price of gold has to be suppressed. Gold had to be made unattractive.


The logical consequences are then to stay away from the banking system and any currency, particularly the dollar. As a result you may want to consider:
removing cash from your bank accounts (keep the bare minimum in it)

closing your saving accounts

selling your stocks, bonds and similar financial products

If possible repay your mortgage and loans

if you have a retirement plan it might also be the right time to close it too.

use all the dollars you collected from the previous 5 points to buy assets that are useful and/or highly sought in time of crisis (oil, gas, power generator, non perishable food, tools, guns & ammunition, batteries, medicine, soap, water purifier...)

try to locate in a self-sustainable area that is away from cities (overpopulation and resource scarcity will certainly lead to violence)

develop your skills (first aid, mechanics, woodwork, fishing, hunting, farming...)

develop your network: mutual help is the best way to face adversity
It's unlikely that all financial/economic activity will disappear overnight. Thus, there might be a window of opportunity in the beginning of the financial collapse when currencies drop while physical gold and silver start reaching their real value, and economic activity/commerce is still ongoing (albeit reduced).

In such a transition, physical gold and silver could present a very strong purchasing power as a means to buy useful assets before economic activity drops to virtually zero. Small silver/gold coins are preferable to big ones because they are easier to trade. Also, do not store coins in a bank vault. If the banks collapse, access to the vaults is not guaranteed. As of beginning of January 2015, a one ounce silver American Eagle coin is $19.80.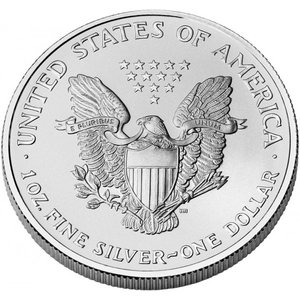 ____________
Profile:
Pierre Lescaudron (M.Sc., MBA) pursued a career in executive management, consulting and post-graduate teaching in high tech fields.
He then became an editor and writer for SOTT.net, fulfilling his dream of researching science, technology and history.
Pierre is a certified Eiriu Eolas instructor and the author of "Earth Changes and the Human Cosmic Connection".